If you are a non-newbie internet user, you'll most likely already know what a Virtual Area Network (VPN) actually is: in the unlikely case you don't, we strongly suggest to check out our informative post about VPNs, where you will find out the difference between VPN Services for Secure Remote Access and VPN Services for Secure Internet Browsing. In a nutshell, the former allows remote users and branch offices to access corporate applications and resources, while the latter is used to secure and anonymize HTTP connections and transactions between you and the internet.
In this post, we'll talk about iTop VPN, a VPN service that belongs to the second group since it allows you to surf the web without being tracked and hiding your IP address - in other words, anonymize your connection to the Internet. Such services typically require their users to subscribe to a monthly or yearly plan, with prices floating between 5 and 10 EUR/USD per month: however, iTop VPN also has a convenient FREE plan (with limited bandwidth, as we'll see below) that allows evaluating the software in the best possible way.
Download & Install
To download the software, visit the iTop VPN official website and click the Download button. The desktop version of the software is available for Windows and macOS, with basically the same UI, UX and feature set: for this test drive, we're going to use the Windows version.
It's worth noting that iTop VPN is also available for iOS and Android with dedicated native mobile apps: to get those apps, just search for "itop vpn" using the iTunes or Play Store's search engine.
The installation part is identical to millions of other software: a wizard-based process that will ask you some typical questions: EULA and Privacy Policy acceptance, an optional advanced install mode that allows changing the default installation folder, and the basic choices about creating icons to the desktop and/or in the applications bar. You'll also get asked to install the free edition of iTop Screen Recorder, a neat screen recording software that we might think to review sooner or later.
Using the iTop VPN Free Edition
After the installation process is completed, the software will start automatically, bringing us to the main dashboard.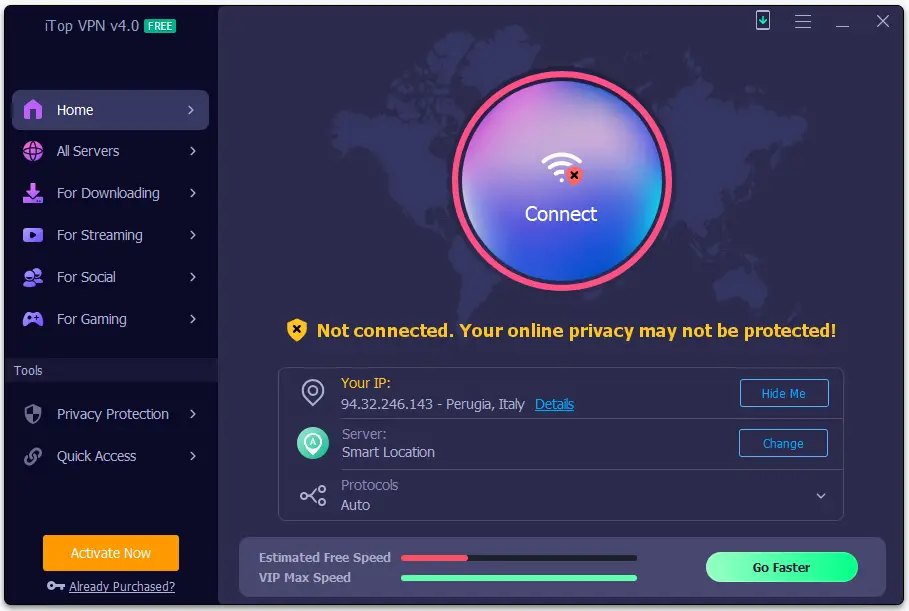 As we can see by looking at the above screenshot,  we are currently Not connected, meaning that we are not protected against IP-tracking websites and services. It is important to keep in mind that this condition is not necessarily negative: it's just the default scenario for all internet-connected users - as long as they don't use a VPN service that can hide their IP, hence protecting and anonymizing their online activities.
The benefits of using a VPN service are not only related to privacy and anonymization: it's also a IT security advantage, because no malicious third-party would be able to see our IP address and attempt to attack / breach our machine while we are connected to the web. Furthermore, we'll also be able to prevent websites and services to geo-localize us, which can be important to access region-restricted contents such as videos, music, social media, games, as well as avoiding region-based limitations applied by streaming services like Netflix, Prime Video, HULU, Disney+, and the likes.
In the left part of the screen, we can see a navigation menu that allows us to either go to the Home (the main dashboard where we are now) or browse a list of the available VPN servers, grouped into the following types:
All Servers. All the available VPN servers (grouped by country)
For Downloading. VPN servers optimized for downloading purposes (torrent, eDonkey, direct file download, and so on)
For Streaming. VPN servers optimized for streaming services (Netflix, Twitch, Disney+, and so on)
For Social. VPN servers optimized to anonymously access social networks (Whatsapp, Facebook, Telegram, and so on)
For Gaming. VPN servers optimized for online gaming (Call of Duty, Roblox, Minecraft, Counterstrike: GO, and so on)
On general terms, it can be wise to choose the VPN server optimized for your specific purpose: however, most VPN servers are shown in multiple lists, meaning that they are good enough to serve most of these access types. In our test drive, since we just want to navigate the web without a specific purpose, we're going to choose a server in the All Servers list: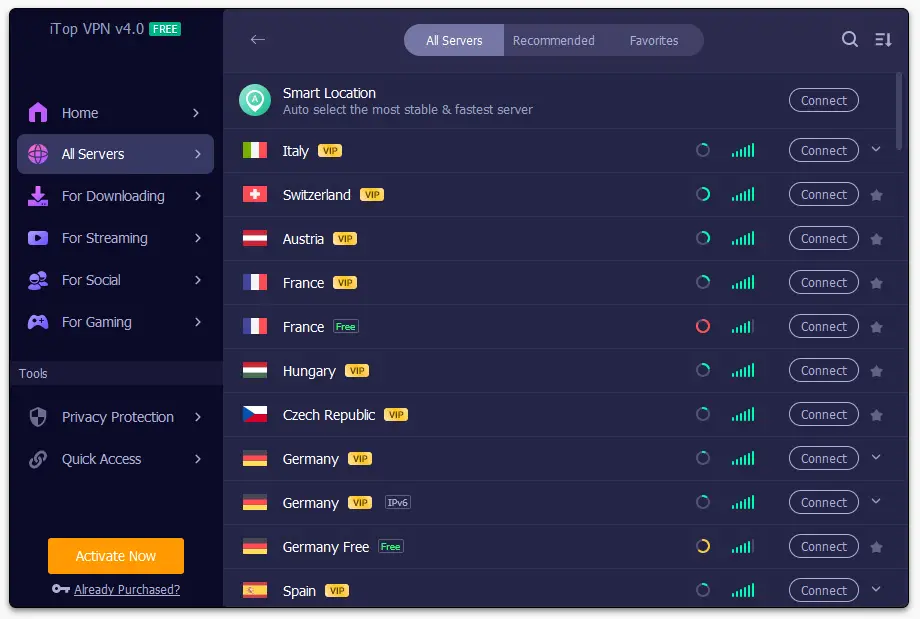 As we can see, there are several VIP servers and some FREE servers. The difference between them is quite easy to guess: VIP ones require a paid subscription, while FREE ones are available to the iTop Free VPN mode that we're using right now. Needless to say, FREE servers are typically more busy and hence have a limited bandwidth, as we can see by looking at the two connection icons to the right.
In our test drive we're going to choose Germany Free, one of the FREE servers available: to connect to it, click the connect button to the right. As soon as we do that, we'll be transferred back to the Home screen, where the software will inform us that we are now connected to a VPN server.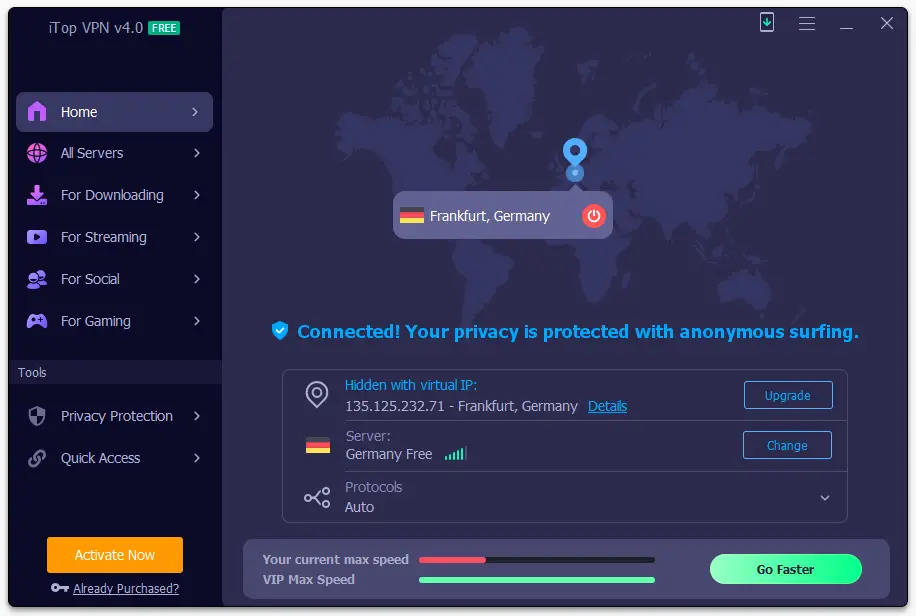 As we can see, the main dashboard shows some interesting options regarding our new VPN-based connection: our IP has been hidden with a german-based virtual IP, even if we are connecting from a different country (Italy). That's great! Now we can safely browse the internet without the risk of being tracked.
However, since we are connected to a free VPN server, we might want to know our new connection speed: now that we have a VPN server that proxies all our activities, we can't reasonably expect to preserve the same bandwidth as our direct connection, right?
To quickly check it out, we can use the speedtest.net website to monitor our current bandwidth. Here's the result: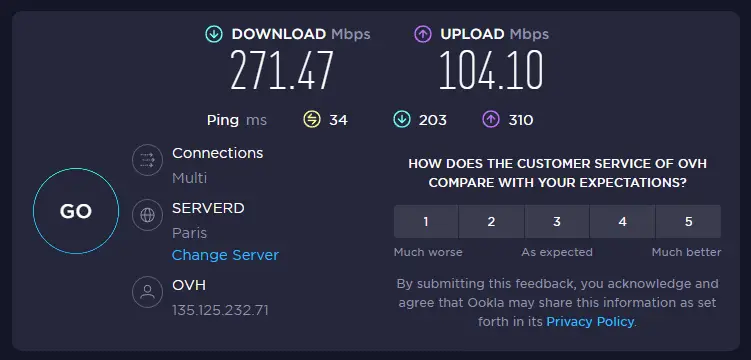 According to speedtest.net, we have 271Mbps in download, 104Mbps in upload, and an average ping of 34. Not bad at all, considering we are using a FREE VPN server!
Now let's disconnect from the VPN server and perform another speed test using our "direct" connection capabilities, so that we can compare it with the VPN-based tests we've just did and estimate the amount of "lost" bandwidth. Here's the result (IP address masked for security reasons):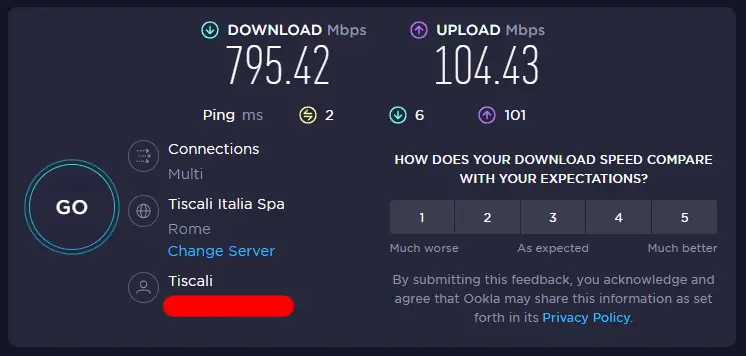 As we can see, our "direct" internet connection is considerably faster - and gives us much more bandwidth than its VPN-based counterpart. However, these scenario are to be expected: using a VPN service will always reduce our connection performances and speed, even when using the best VPN servers. It's the necessary tradeoff to pay to have a data protection mechanism that proxies our activities.
Using the iTop VPN Premium Edition
All is left to do now is to perform a third - and last - test using a VIP VPN server instead of a FREE one: to do that, we have to purchase a paid subscription, which is something that can be done on the iTop VPN website. The cost of the subscription that allows us to unlock the iTop VPN Premium mode is 47,99 per year (instead of € 155,88€): if we compare such a price with those of the other VPN online services available, we can see how iTop VPN is definitely cheap - which makes it a great cost-effective alternative!
Once we have purchased the subscription and unlocked the iTop VPN Premium edition, we'll be able to choose all the VPN servers available - including the VIP ones.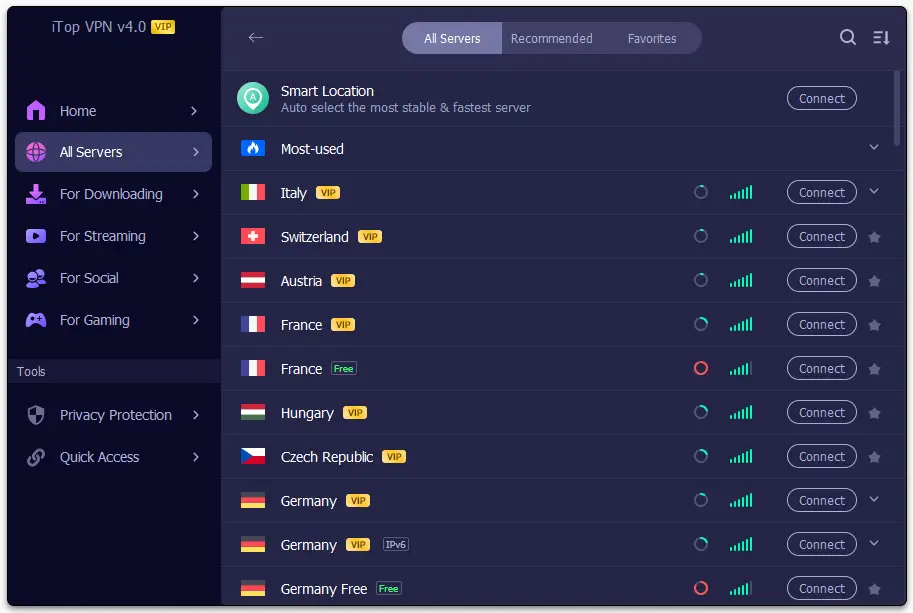 This time we're going to connect to the Switzerland VIP server, which seems to be less crowdy (circle icon) and has full bandwidth (connection bars icon).
And here's the speedtests.net result for that server: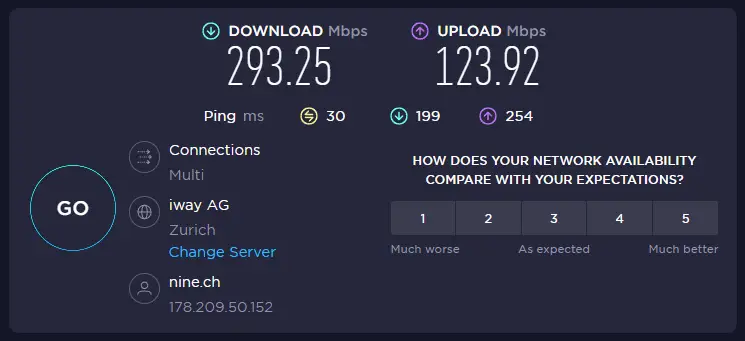 As we can see, now we have an increased Download and Upload speed, mostly due to the fact that the VPN server is less busy and therefore has more bandwidth available.
Free vs Premium
VIP servers are not the only feature missing from the iTop VPN Free edition. Here's a full breakdown of the advantage of the PREMIUM edition against the FREE ones:
Increased number of VPN servers (thousands instead of dozens)
Higher quality VPN servers
Multiple VPN protocols (for better security)
Faster internet speed
Strong Encryption Strength
No-Log Policy
Unlimited Bandwidth (free version allows max 700MB/day)
Tech Support 24/7
By looking at the above list, we can see how the FREE edition is missing core features and has ordinary performance in data encryption, security policies, and connection speed - not to mention the 700MB/day hard-cap, which is easy to reach if we want to use the VPN to download stuff or to access streaming video services. All that considered, the FREE edition is still a great way to test the product before having to buy it - which is a missing feature of most competitors.
Other notable features, available in both editions, are: IPv6 support, Split Tunneling, Ad-Block, Incognito mode, cookie auto-cleaning, and more.
Conclusion
iTop VPN is a strong VPN service that can definitely stand its ground against most renowned competitors, mostly thanks to a strong pack of features and a cost-effective price. The multi-platform approach is a nice add-on since it allows it to be used on multiple different devices. All in all, we strongly recommend considering it if you are looking for a good VPN service and want to save some valuable money without losing the important stuff.