Smartphones and mobile devices have been around for just over a decade, but we can definitely say that they have become our primary computing device: not just for our hobbies and personal activities, yet also for our business life and working experience: this simple yet undeniable fact has become even more true today, following the recent global pandemic crysis that has forced millions of people to work-from-home.
At the same time, these devices are still extremely fragile in terms of operational continuity due to the numerous threats that can compromise their operation. Among these, the most critical allegedly are:
Software fault, which often forces the user to have to format and reinstall the whole operating system, with high risk of data loss.
Generic hardware fault, which can easily lead to a full replacement of the device.
Screen fault, which, although repairable in most cases, makes it almost impossible to access and/or recover the data stored in the smartphone's internal memory without resorting to a dedicated technical assistance service.
Third-party activities, such as malware, cyberattacks, theft or other malicious actions that could prevent us from being able to access our device or our data.
For all these reasons, it is very important to have adequate countermeasures. And what better countermeasure than a tool that allows us to backup all the content of our device and securely store it elsewhere, so that we can access (and/or restore) it as we please? This is exactly the question that Coolmuster Android Assistant tries to answer: in this review we will try to find out if this is really the case.
This post was made possible by through compensation: the actual contents and opinions are the sole views of the author, who maintains editorial independence, even when a post is sponsored. For more details, please read our
policy
.
Installation
Installing the software is just as easy as any other shareware tool: we went to the Coolmuster official website and downloaded the free trialware edition (version 4.9.49, the latest at the time of writing). The whole installation process is a matter of few seconds and does not include the "valuable chance" to download, install and/or sign in to other third-party sponsored software bundles (phew!).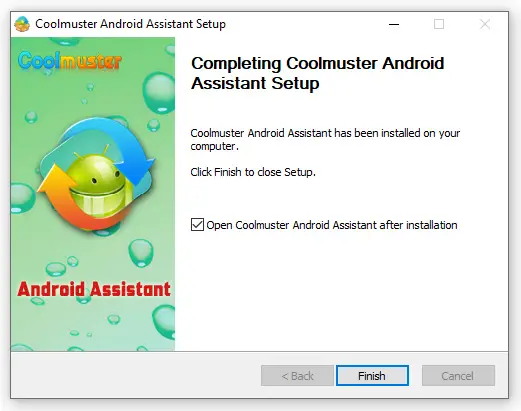 After running the software, we are greeted by a kind of product dashboard that allows to access all the software products of the Coolmuster "suite": the installed ones do have a green background, while the white ones are available for trialware download.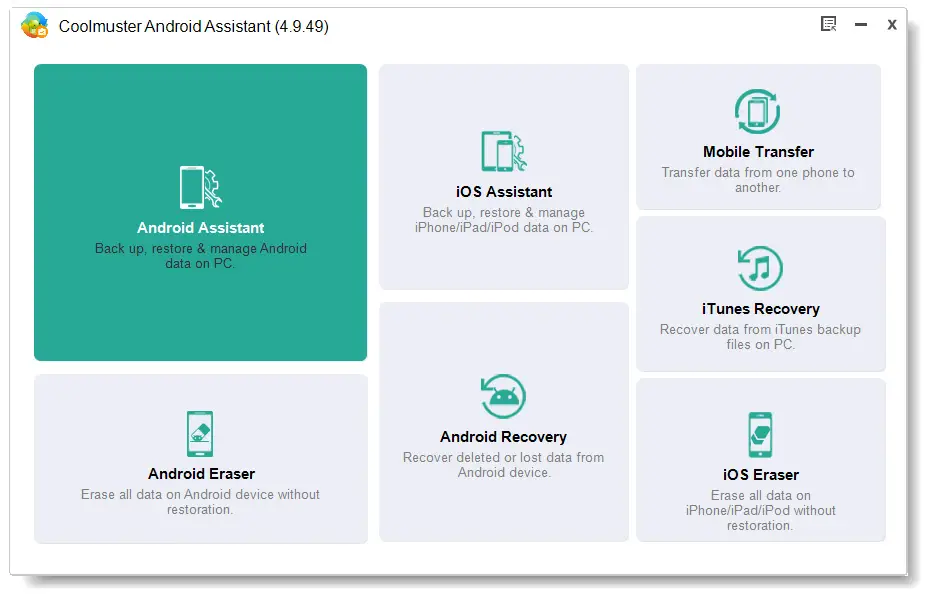 Upon clicking to the Android Assistant box another dashboard appears, this time related to the Coolmuster Android Assistant software and all its main features. As we can see from the screenshot below the user interface is clear enough and quite simple to understand, although the icons and user controls are not as much refined and as other more expensive software suites such as MS Office, Adobe Suite, and so on.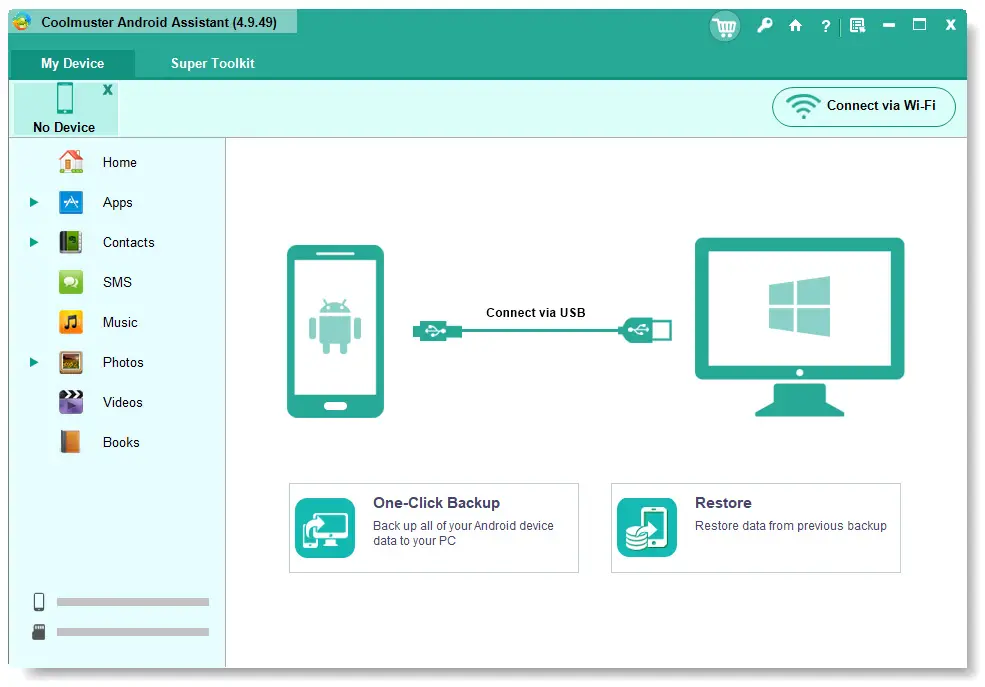 Connecting the Android Device
If we connect a Android Device to one of the free USB ports, the software will auto-detect it and update the dashboard in real time, showing a wizard that will guide us through the setup of our device so that the software will be able to handle its data.
In order to allow them, we'll need to enable the USB debugging feature on our Android device by following the given instructions (the text and images will change, depending on the brand/model of the detected Android device). We'll also be asked to give a friendly name to our device, so that we can recognize it later on; it goes without saying that this can be handy in case we plan to manage multiple devices.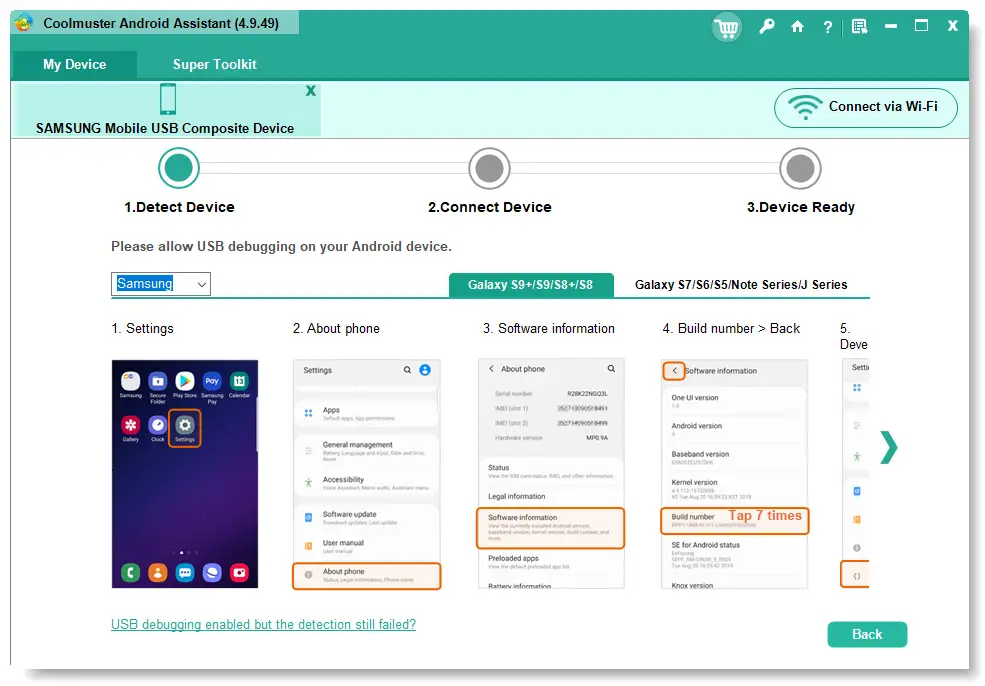 Features breakdown
As soon as the USB debugging feature is enable, the software will install the required drivers and complete the installation process: right after that, we'll be able to see our device's status on the smartphone's screen and also inside the Coolmuster Android Assistant main window, as shown in the screenshot below.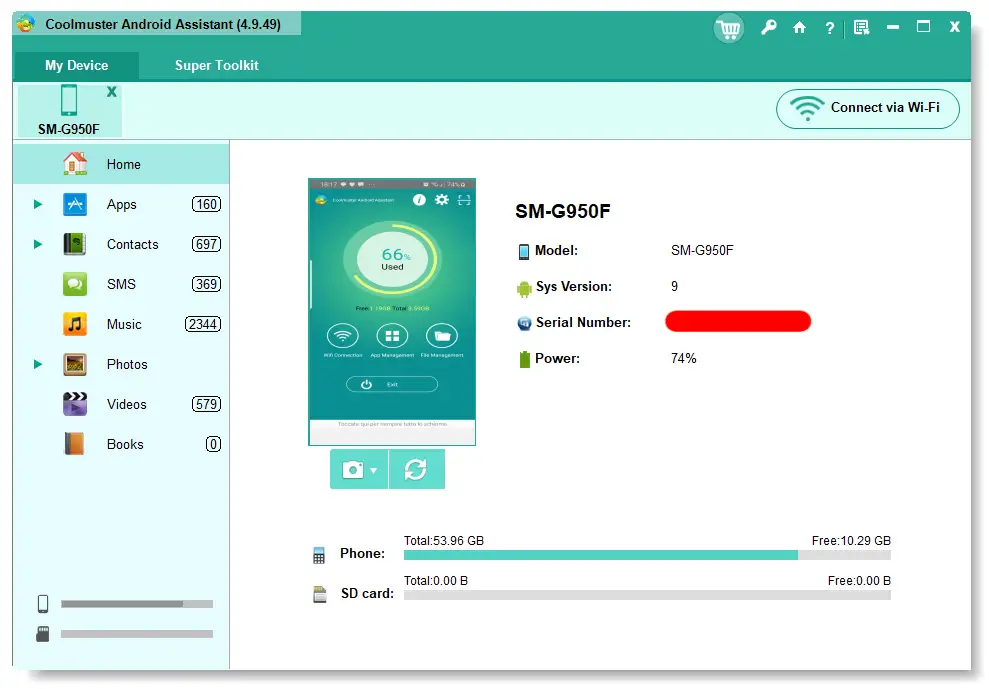 Now our device and the tool have been connected and we can use the software to its full extent:
Backup the smartphone data using the "one click backup & restore" feature (full version only).
Edit and/or export the contact list in many supported formats, including: CSV, HTML, VCF, Outlook, XML
Edit and/or export the full calls log in XML format.
Install and uninstall apps, as well as export the full app list.
Import/export SMS in HTML, TXT, CSV, XML formats, as well as sending them from the PC instead of the Smartphone.
Import/export music, such as MP3 files.
Add/delete/export photos and videos, either fully or selectively using the smartphone built-in albums (full version only).
Add/delete/export eBooks (full version only).
In the (likely) chance you hit a "full version only" feature, you'll be greeted by this rather annoying pop-up window: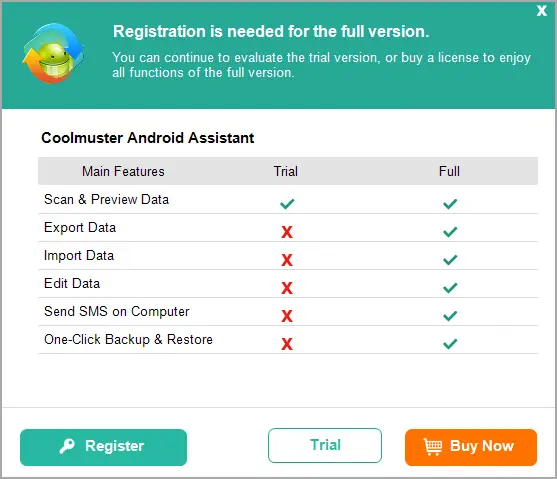 Unfortunately you don't get the chance to activate the software to its full extent in a try-before-buy mode: the Trial button will just close the pop-up window and bring you back to the trial mode, which doesn't allow some of the most exciting features - such as the one-click bacup. That's one of the major downsides of the tool, which could've definitely benefit from giving their potential customers the chance to be able to unlock all the features for a limited amount of time.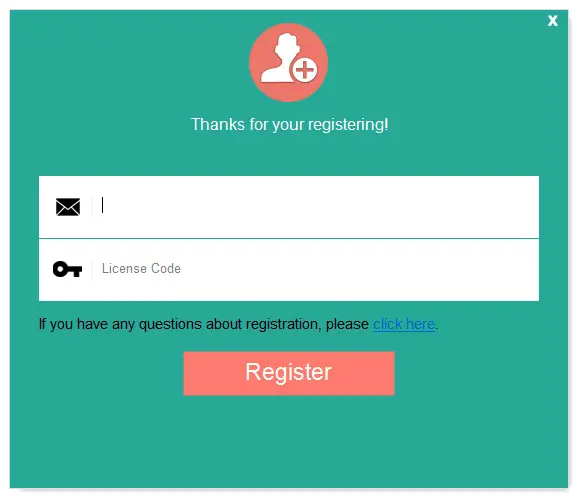 Luckily enough, we were given a complimentary license from Coolmuster in order to write this review: for that very reason, we can guarantee that everything is working as expected and the software does everything it says.
Support & Compatibility
Coolmuster Android Assistant supports all Windows and Mac operating systems (32 and 64 bit), including:
Windows 10/8/7/Vista/XP
Mac OS X 10.9 "Mavericks" or later
As for the hardware requirements, the tool requires the following:
Processor: Intel Pentium 1000MHz and above
CPU: 1GHz (32 bit or 64 bit)
RAM: 256 MB or more of RAM (1028MB Recommended)
Hard Disk Space: 200 MB and above free space (depending on the size of the data you might want to backup)
Coolmuster Android Assistant claims to be fully compatible with all most popular Android phones and tablets. Here's a non-comprehensive list taken from the official website's device compatibility list:
BRAND
DEVICE NAME / MODEL
Samsung
Galaxy S10/S10+/S10e, Galaxy S9, S8, S7, S6, Galaxy, Galaxy 551, Galaxy SL, SGH I927, SGH I927R, SGH I997R, Acclaim, B7510, B7510B, B7510L, Behold II, Captivate Glide, Driod Charge 4G LTE, Exhibit 4G, Galaxy 3, Galaxy 5, Galaxy 5/Europa, Galaxy Ace, Galaxy Apollo, Galaxy Fit, Galaxy Gio, Galaxy Mini, Galaxy Mini / Galaxy Pop, Galaxy Note, Galaxy Pro, Galaxy S, Galaxy S Ⅲ, Galaxy S 4G, Galaxy S Captivate, Galaxy S Comtinuum, Galaxy S Epic 4G, Galaxy S Fascinate , Galaxy S Fascinate 3G+, Galaxy S Infuse 4G, Galaxy S Mesmerize , Galaxy S Vibrant, Galaxy SII, Galaxy SL, Galaxy Spica, Galaxy Tab 2 7.0(P3100), Galaxy Tab 10.1, Galaxy Tab 7.0, Galaxy Y GT-S 5360, Galaxy Z/Galaxy R, Grand Duos, Note 2, Note 3, Note 4, Note 5, Note 6, Note 7, Note 8, S4 Mini Duos, Xcover 2
GT B7510, GT B7510B, GT B7510L, GT I5500, GT I5500 MR3, GT I5500B, GT I5500L, GT I5500M, GT I5503, GT I5503T, GT I5508, GT I5510, GT I5510L, GT I5510M, GT I5510T, GT I5700, GT I5800, GT I5800D, GT I5800L, GT I5801, GT I9000, GT I9000B, GT I9000M, GT I9000T, GT I9003, GT I9003L, GT I9100, GT I9100G, GT I9100M, GT I9100P, GT I9100T, GT I9103, GT I9300, GT I9500
GT N7000, GT N7000B, GT P1000, GT P1000L, GT P1000N, GT P1000R, GT P1000T, GT P7500, GT P7510, GT S5570, GT S5570B, GT S5570I, GT S5570L, GT S5660, GT S5660L, GT S5660M, GT S5660V, GT S5670, GT S5670B, GT S5670L, GT S5830, GT S5830 Galaxy S3, GT S5830B, GT S5830C, GT S5830D, GT S5830i, GT S5830L, GT S5830M, GT S5830T, GT Xperia S
I400, I500, I5500, I5500B, I5500L, I5500M, I5503, I5503T, I5508, I5510, I5510L, I5510M, I5510T, i559, I5700, I5800, I5800D, I5800L, I5801, I7500, i896, i897, I9000, I9000B, I9000M, I9000T, i9003, I9003L, I9008, i909, i9100, I9100G, I9100M, I9100P, I9100T, I9103, I9300
Intercept, M580, M920, Mi400, Mi500, Moment, Mr Duy, N7000, N7000B, Nexus S, Nexus S 4G, P1000, P1000L, P1000R, P1000T, P7500, Precedent, Replenish
S5570, S5570B, S5570I, S5570L, S5660, S5660L, S5660M, S5660V, S5670, S5670B, S5670L, S5830, S5830B, S5830C, S5830D, S5830i, S5830L, S5830M, S5830T, SC 02B
SCH I400, SCH I405, SCH I500, SCH I510, SCH I559, SCH I800, SCH i909, SCH M828C, SCH R820, SCH R880, SCH R915, SCH R920, SCH-I500
SGH I896, SGH I897, SGH I927, SGH I927R, SGH I997, SGH I997R, SGH T589, SGH T589R, SGH T759, SGH T959, SGH T959D, SGH T959P, SGH T959V, SGH T959W, SGH-i897, SGH-T939, SGH-T959, SGH-T959D, SGH-T959V, SGH-T959W
SHW M110S, SHW M240S, SHW M290K, SPH D700, SPH M580, SPH M820 BST, SPH M900, SPH M910, SPH M920, SPH P100, Stratosphere 4G, T759, Transform, Vibrant T959, YP G50, etc.
HTC
A3232, myTouch 4G Slide, X315e, 001HT, A3360, A3366, A3380, A510b, A510c, A510e, A6277, A6363, A6367, A6380, A7272, A8180, A9191, A9192, Abyzou by ikxdf, ADR6300, ADR6325, ADR6350, ADR6400L, Aria, Aria A6380, C510b, C510e, clay's SuperBad 3G, click, Dark Unicorn, Resurrected v 2
Desire, Desire C, Desire CDMA, Desire HD, Desire HD A9191, Desire S, Desire S S510e, Desire V, Desire Z, Diamond 2, Dream, Dream Sapphire, Droid DNA, Droid Eris, Droid Incredible, Droid, Incredible 2, Eris, EVO, EVO 3D , EVO 3D X515a, EVO 3D X515m, EVO 4G, EVO Shift 4G, Flyer, Flyer 4G, Flyer P510e, Flyer WiFi, generic vortex, Gingerbread on Dream, Gingerbread on Sapphire, Glacier, Gratia A6380, GT I9300, HD2 Desire HD
Hero, Hero 200, IceBread, Incredible, Incredible 2, Incredible 2 HD, Incredible S, Inspire 4G, Legend, Liberty, Magic, Magic Dream, Merge, MSM, myTouch 3G Slide, myTouch HD, MZP PHONE, Nexus One
One S, One T320e, One V, One V CDMA, One X, One X LTE / Edge, One XL AU/ Edge, One XL EU / Edge, One XT, P510E, P512, P515E, Panache, PB99400, PC36100, PG06100, PG86100, Plain Biff Dream, Rhyme, Rhyme S510b, Runnymede, S170d, S510b, S510e, S710E, S720e, S720t, Salsa, Salsa C510b, Salsa C510e, Sapphire, Sapphire Dream
Sensation, Sensation 4G, Sensation XE, Sensation XL, Sensation Z710a, Sensation Z710e, SilverStone Sensation XE V341, T Mobile G2, T Mobile myTouch 3G, T Mobile myTouch 3G Slide, T Mobile myTouch 4G, Tattoo, ThunderBolt, ThunderBolt 4G, ViewPad 10e, Vision, vivow
Wildfire, Wildfire S, Wildfire S A510b, Wildfire S A510e, Wildfire S A515c, X325E / X325S, X515, X515a, Z250E, Z320E, Z520E, Z710a, Z710e, Z710t, Z715a, Z715e, etc.
Motorola
XT502, XT909, XT910, XT912, A1680, A853, A854, A953, A995, ALCATEL one touch 995, Atrix 4G, Backflip, Citrus (Ciena), CLIQ, CLIQ 2, Defy, Droid 2, Droid 3, Droid RAZR, DROID RAZR HD, Droid, RAZR MAXX, Droid X2, Flipout, MB200, MB300, MB501, MB511, MB525, MB611, MB612, MB855, MB860, MB870, ME525, ME722, ME860, ME861, Milestone, Milestone 2, Milestone 3, Milestone X, Milestone XT720, MING (Lucky 3G), MotoA953, Moto X, MT887, MT917, MZ505, MZ601, MZ604, MZ608, MZ615, MZ616, Photon 4G, Quench/Greco(Commtiva z71), RAZR, RAZR MAXX, RAZR R, RAZR V, Spice, WX445, Xoom, Xoom 2, Xoom 2 ME, Xoom Wifi, XPRT, XT 889, XT300, XT502, XT701, XT702, XT720, XT800, XT862, XT883, XT910, XT912, XT926, Z71, etc.
LG
E450B, P350, ALCATEL one touch 990, Ally, C550, E400, E720, GT540, GW620, In Touch Max ( Etna), L 04C, Optimus 2X, Optimus Black, Optimus Chic, Optimus GT540, Optimus L3, Optimus Me, Optimus One, Optimus T, Optimus V, Optiums 2X, P350, P500, P503, P509, P970, P990, Revolution 4G, VM670, Vortex, VS740, VS910 4G, ZP500, etc.
Sony
Arc S, Ayame, Desire HD, E10a, E10i, E15, E15a, E15i, E16i, Flying MM X10, iXperiA 8s, LEWA, LT15 18i Hemiui, LT15a, LT15i, LT18a, LT18i, MT11a, MT11iM, MT15a, MT15i, Nexus S, Play, R800a, R800at, R800i, Shakira, SK17a, SK17i, SO 01B, SO 01C, SO 01D, ST15a, ST15i, ST18a, ST18i, U20a, U20i, W8 Walkman, WT19i, X10, X10 Mini Pro, X10a, X10i, X10 Mini, X10S, X8, X825a, X8z, Xperia, Xperia Arc, Xperia Arc S, Xperia Mini, Xperia, Mini Pro, Xperia Neo, Xperia Neo V, Xperia Play, Xperia Ray, Xperia X10, Xperia X10 Mini, Xperia X10 Mini Pro, Xperia X8, Xperia X8 E15i, Xperia Z, z1, etc.
ZTE
N600, RACER, RACER II, SKATE, U880, Z990, a5, Avail, BASE lutea, BASE Lutea 2, Blade, Blade S, BLADEII, C N600 , C R750, Carl, Cordyceps Kdrncr, Fury, joe, KPN Smart 200, Kyivstar Spark, Light, Light Tab, Light Tab 2, Light Tab Pro, MF8604, MTC 916, MTS SP100, myPad P2, N850, N880, Netphone 701, Nexus S, Optimus Barcelona, Optimus San Francisco, Perfect Rom v2, Perfect Rom v3, PM1107, Racer, Sapo a5, SGH t989, SKATE, T Mobile Vivacity, T28, T3, T3020, Telenor Touch Plus, ThL V9, Turkcell T11, U V880, U V960, U X850, U8120, V880, V9, V9 Plus, V9 Pro, V9A, V9C, V9e, V9S, VF945, Vodafone 945, X850, X876, Xperia 945, Z990, etc.
HUAWEI
M860, U8850, Ascend, Ascend M860, Ascend P1, C8600, Honor (U8860), Ideos, IDEOS S7, IDEOS S7 Slim, Ideos X5, Ideos X5 Pro, M860, MediaPad, Pulse, S7, s710i, U8110, U8120, U8150, U8210, U8220, U8300, U8520, U8800, U8800 51, U8800 Pro, U8850, U9220, UM840, Vision, etc.
DELL
Aero, Mini 5, Opus One, Streak, Streak 10 Pro, Streak 7, Streak 7 4G, Streak Pro 101DL, Streak US/EU, Venue, XCD 28, XCD35, etc.
Acer
A1, A1E, A1F, A500, beTouch, E110, e1101, e1102, e1108, e1109, e1109c, E310, E400, GT I9100, Iconia A500, Iconia Smart S300, Iconia Tab, LG E400, Liquid, Liquid E, Liquid E Ferrari Special Edition, Liquid Metal, Liquid MT, Liquid S100, Liquid S100 B, Liquid Mini, S110, S120, S300, Stream, etc.
Google
A2, A45, A818 Duo, AMID 971R, Aurora II, BEAT2, CINK, Crespo, ELF II, EPAD, Evodroid 7 2, fj vortex, Fly IQ245, Full Android on Crespo, Full Android on SMDKV210, Galaxy Nexus, GT I5700, GT, I9000, GT I9000B, GT I9100, GT I9220, GT P1000, GT S8500, HTC Desire, I9000, I9100, iBall Slide, i7011, IMO S900, IS703C, LT18i, M030, M032, M9, MID Serials, MID7033, Nexus One, Nexus 4, Nexus 5, Nexus 7, Nexus 10, Nexus S, Nexus S 4G, NOVO7 Mars, NOVO7 Tornados, PD Novel, Qmobile S11, R800i, Ramos W13 ICS, Ramos W17, SAMSUNG SGH I717, SAMSUNG SGH I727, Samsung Wave GT S8500, SCH I500, SGH I897, SGH I9000, SGH I997, SGH T959, SGH T959V, SGH T989, Speed MB Z3S, SWT 7220, SWT GT 7220, Symphony W10, T959, U1, ViewPad 10e, W13PRO, W17PRO Dualcore , xTAB 70w, ZT ICS, etc.
Asus
A10, A10 MID, A1000, A102 MULA, A50, Eee Pad Transformer TF101, Eee Pad Transformer TF101, Garmin, Garmin A10, Garmin A50, Garminfone, Micromax A50, MID A10, TF101, Transformer TF101, Transformer TF101G, Garmin-Asus nuvifone, etc.
Other Phones
Amazon, Apanda, ALCATEL, Casio, Coolpad, Fujitsu, Gigabyte , GSmart , Lenovo, K-Touch, Kyocera, NEC, NOVO, Orange, Panasonic, Pandigital, Pantech, SHARP, Softbank, TCL, Toshiba, T-Mobile, ViewSonic , Xiaomi, Xiaomi mi2s, etc.
Supported Android System
Android
Android 4.0 above (Android 10.0 included)
Useful Links
Conclusions
Coolmuster Android Assistant is definitely a useful tool, and anyone who is looking for an effective and affordable solution to run periodical backups of their Android devices should definitely give it a try: the only downside we got was due to the fact that the software doesn't give the chance to try all its features before buy, which could potentially hinder some customers from purchasing it.
For that very reason, we strongly suggest Coolmuster to change this behaviour and allow the full unlock of all the "full version only" features for a limited amount of time, so that the users will be able to try and appreciate them just like we did with our  complimentary license.