The world is evolving rapidly. A couple of decades ago, the sole purpose behind a Personal Computer was to help people carry out work related tasks. Well, those times are long gone and the most prominent motivation behind buying a formidable PC these days is gaming. Computer gamers across the globe take pride in owning machines that can perform at par and even better than most gaming consoles.
With so many amazing titles like Assassin's Creed Origins and Battlefield V waiting to be grabbed, the question is whether a gaming PC is capable of delivering them in the way they are meant to be played. Now assembling a PC might seem intimidating with all the wirework going on and the various components, which need to be interconnected. However, in reality, once you get a hang of how things work, the process is fairly streamlined. Whether you intend to buy a new PC, or upgrade the one you already have, let us guide you through a detailed component analysis to get the machine of your dreams.
Desktop Vs Laptop
The first thing you need to analyze is what suits you the best, a laptop or a desktop. If you like to travel around a lot for gaming sessions, and prefer changing places often, then a laptop might be a more suitable bet (provided that you are willing to spend a little more since laptops generally cost more than PC's due to their portability factor). Desktop computers on the other hand are powerhouses, and you can obtain some monstrously capable devices for the same price you will be paying for a capable gaming laptop.
Buying a Pre-Built System
Now that we know whether we want a laptop or a desktop computer, let us move ahead. A number of prominent companies offer prebuilt desktop systems, which is a great option if you wish to avoid all the hassle of assembling a computer system by yourself. Some prominent options are Corsair's Vengeance 5180, which is targeted for a high-end audience, or the HP Omen Obelisk, which is suitable for mid-ranged gamers. Even if you calculate the individual price of the components, DIY assembly and a pre-assembled system won't vary majorly in price. Moreover, these assembled systems come with warranties and some added features which are not available for DIY scenarios.
Before we explain the different components and their participation towards the perfect system, you need to understand that your online gaming experience is largely dependent on the capabilities of your internet. If you have an impressive system, but your internet is struggling, the overall experience will be disappointing. Major ISP's offer formidable services to cater to the need of online gaming, like Cox internet packages can very well be your savior in this regard.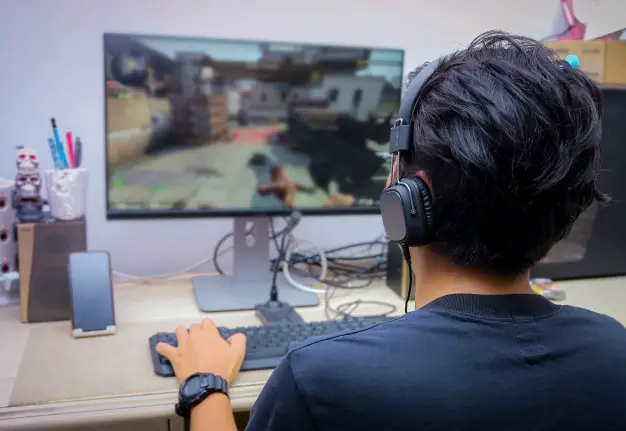 Assembling your PC
There are a number of components, which we need to consider while assembling a computer system. A list of those components is as follows:
PC Casing and Cooling
The first thing you need to do is select the perfect PC casing for your setup. Some people prefer compact casings for closed spaces while others favor more flashy options with RGB lightings and larger structures. Your casing should have enough space to comfortably host all the components of your choice and there has to be enough breathability so that things do not overheat. Casings usually come with built-in cooling fans but for a gaming setup, it is advisable to opt for a dedicated cooling option like liquid cooling. With the changing technology, parts like graphic cards are advancing every other day so it is wise to keep some extra space if you plan to upgrade your system in the future. Many major companies like Asus, Corsair, Cooler Master and VIVO offer great casing options like Cooler Master Stryker SE, Corsair Carbide Spec-Alpha and VIVO "Smart" Tower. Your decision has to be based on the price bracket that you have in mind for your system.
Power Supply (PSU)
The next thing you need to consider is the capacity of the power supply you want for your system. Power supply is the driving component of your system, which powers all the individual components, some through the motherboard and some of them directly. A good practice before purchasing a power supply is to inquire the energy requirements of the most prominent components like the graphic card. This will give you a good idea regarding your systems consumption. Always buy 100 watts above the required limit to be on the safe side. The usual range for power supplies in gaming PC's lies between 450-550 watts.
Motherboard (MB / MoBo)
Motherboards, just like processors, come in many different flavors such as budget entry options and enthusiast focused geared options. The motherboard distributes electricity and commands. When compared to our biology, it would be similar to that of our own skeleton. All of your components will be secured to the motherboard; therefore, connectivity options are important alongside features. These features can be added through the addition of components but keep the connectivity option in mind that will be limited with entry-level options. You could add on Wi-Fi through a USB port or a PCI slot on your computer, but remember to factor in the cost of these options when selecting a motherboard versus purchasing additional components.
Audio options that are offered are fine for most but not for everyone. So if you plan to add a dedicated sound card to handle your audio processing, bear in mind that an additional PCI slot is required. Your graphics card will occupy a PCI Express slot and if you plan to have Multi-GPU setup for 4K gaming then you will need two of those slots. Graphics card manufacturer NVidia and their property SLI certification result in a higher premium since the manufacturer of the motherboard is charged a fee to use their seal of approval.
Processor (CPU)
Your processer is the key component when it comes to the computing power of your system. Capable processors complimented with the right set of components allow you to play the most advanced computer games with ease. While determining the processor you need, a good practice is to look at the number of cores being offered. Multiple cores split processing data between them, which increases the efficiency for various tasks. Note that not every game takes full use of all your cores so it is better that if you have a specific game in mind, check its compatibility with different processors.
The processing frequency also plays an important role in defining the capability of a processor. Processing frequency is generally calculated in hertz (Hz). Simple processors will be branded as a single processor with a certain Hz frequency like 2GHz. On the other hand, multiple cored processors define speeds for individual cores. Make sure that your processor supports the latest RAM and GPU so you don't have to spend extra if you intend to upgrade your system in the future.
Video Graphic Card (GPU)
Proper gaming is based on significant graphical power, which comes from the GPU. A number of assembled PCs come with built-in graphic cards. However, the way games are being developed these days, a dedicated GPU has become a necessity. When you add a good graphical card to your gaming arsenal, the core processing is shifted to the GPU so that your computer can multi-task properly as well as give you the best performance during demanding gaming sessions.
Different cards perform particularly well with different genres of games so it's quite useful if you carry out some base research as to what your requirement is. Similarly, different graphic cards outshine in different resolutions. For instance if you are a fan of Witcher 3, AMD RX Vega 56 would offer you excellent graphics with great value for money. If DOTA 2 is your thing, Nvidia GTX 1070-Ti could be your go-to card. Sometimes, even the most basic graphic cards are sufficient to play the games you love. So your decision should be based on your need rather than what you want if you intend to save money.
Memory (RAM)
RAM is an important component as it temporarily stores data in itself while your computer performs various tasks. A greater RAM allows your computer to carry out multiple tasks simultaneously without compromising on the efficiency. Despite the fact that you have a capable processor and graphic card installed, if the RAM is not sufficient, your entire system will be considerably slow. In the current era of technology, a minimum RAM of 6 GBs is recommended, especially if you have a gaming intent. You also need to take into account the generation of the RAM you are using, as it should be compatible with your system. For instance, a DDR2 RAM would be considerably slower than a DDR3 RAM of the same Gigs. Your motherboard and the processor need to be compatible with the RAM you install in your PC so make sure to consult a credible resource. This is not difficult at all, it could be as simple as reading the instruction manual on your motherboard.
Hard drive (HDD / SSD)
Everything that is stored in your computer requires a local physical space. Your hard disk provides that space where you can store all the games and programs, until your hearts content. The ideal hard disk for a gamer would need to be fast and offer you great space for storage at the same time. The speed of a hard disk is generally determined by the RPM, the speed at which its disk rotates. These days, the standard RPM for gaming is 7200. Solid States Drives (SSD) is also the go-to technology for gamers these days as these storage devices don't rely on a rotating disc. They do cost considerably higher and offer less storage space as compared to the standard hard disks.
The best practice these days is to couple an SSD with a standard hard disk. The SSD will be useful for booting purposes as well as initiating various programs and software. The standard disk will provide the space for all the data storage. A 512GB SSD would work great with 1-2TB of standard storage space for backing it up.
Monitor
Monitor is your core output component as it displays all the awesomeness of your system. Having so many options in the market and making a decision on which display suits you best might be a nuisance. The primary factor, which you need to consider, is the size of your monitor. You need to choose a size that suits your gaming needs the best. If you are a fan of RPG's, a bigger screen size can bring in better entertainment. On the other hand, if you like playing strategies games more; a larger screen size would make it difficult to maneuver your character.
Higher resolutions are required on bigger screens for optimal results. Moreover, certain games require greater resolutions to support all the immersive detailing, which goes on in them. Keep in mind though that playing games at a higher resolution will test the computing power of your device so your computer system needs to be at par with the performance requirement for such titles. Resolution settings can be tweaked as per your requirements but there is always a max resolution up to which a monitor can perform. If you are willing to upgrade your system in the future or if your current system is capable enough, we highly recommend going for a good monitor that facilitates you in the longer run.
Other components to consider
There are certain other things, which are an active part of your system as well. However, these are minor components as compared to the ones, which we have already discussed. Your preference for a mouse, speakers, or a keyboard would not affect the performance of your device. Nevertheless, these things, including a headset can directly affect your gaming experience. So make sure you choose components in accordance with your comfortability level. Some people prefer ambidextrous mice while some gamers like their headphones to have noise cancelation features. The buying choice is always yours. Choosing between DIY or an assembled system is also per your preference and if you feel like 'doing it yourself' could be nuisance, you always have the other option at hand.
DIY Installation
You can always have someone build your machine but that would take all the fun out of the fulfilling and rewarding experience, you will get when assembling it on your own. When you run into a problem, it can be frustrating but the internet is always there to help you out. By accessing online forums, you easily find a solution to your problem. The first goal should be to have your newly built computer post and allow you access the bios. You can configure RAM speed and ensure all devices are being recognized properly. If, for some reason, a component is not visible in the bios then it is a good idea to power down and inspect your cabling. It's best to load your operating system on to a USB 3.0 flash drive and boot from the device via bios.
Once installation of the operating system is complete, you want to install the necessary drivers for the operating system, motherboard, processor, and graphics card. All driver installations are straightforward except for your graphics card, which requires you to disable on-board graphic so your graphics card can take care of graphics processing.