A lot of time passed from that late 2018 day when WordPress 5.0 was released, bringing the new block editor known as Gutenberg: that day was meant to transform the editing experience in WordPress, replacing the "classic" HTML editor with a brand-new modular approach to pages and posts. That's, in a nutshell, the essence of Gutenberg: each piece of content in the editor, from a paragraph to an image gallery to a headline, has its own editing block, replacing the "old" concept of a single, mastodontic HTML content.
Instead of releasing Gutenberg as a separate plugin, the WordPress team decided to make it part of the WordPress core, meaning that WordPress development will be optimized for Gutenberg's use. Such choice could only mean one thing: the new editor was meant to stay, whether WordPress adopters like it or not: those who wanted to stay with the "classic" editor had to download a dedicated plugin, thus missing out most of the new juice.
In the following three years the Gutenberg team has made numerous changes to the new editor, which is now updated to its 10.7.1 version: the huge amount of new and improved features solved most of the initial problems, thus making Gutenberg a complete editor with no substantial shortcomings: however, the "classic" editor plugin still has over five millions active installations worldwide and doesn't seem close to go out of the scene anytime soon.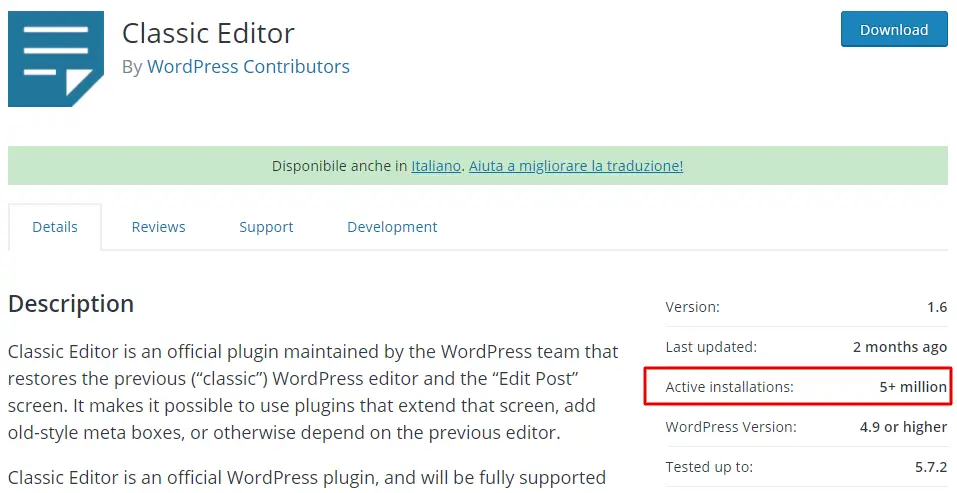 In this post we'll try to highlight the major advantages and disadvantages that come with the Gutemberg Editor in 2021, hoping that will help other WordPress users to make their choice. Are we ready? Let's start!
Gutenberg PROs
Here are, in our opinion, the most distinctive advantages offered by the Gutenberg editor in 2021.
Block-level Editing. In Gutenberg, everything is divided into blocks: images, headings, paragraphs, videos, audio files, and so on. These "blocks" are very useful because they give you a high level of flexibility of adding a vast range of content types into your posts. Furthermore, you can add columns, separators, embeds, in-post widgets, and many other content types into your post and pages.
Great Editing Experience. Gutenberg is simple to use and has a "native" approach that requires no additional plugins. For example, it natively allows to insert multimedia content such as YouTube videos, which is something that - using the "classic" editor - could only be done by adding a third-party plugin.
Medium Editing Experience. Most "modern" blog users are trained to use Medium, one of the most populr online publishing platforms nowadays. Gutenberg will let you give the Medium Style Editing Experience; if you want something that closely resembles the Medium editor, you will definitely go for WordPress Gutenberg.
Reusable Blocks. The Reusable Blocks feature allows to save any block, thus making it "reusable" for any other post: in order to do that, you just have to go to Add Block > Saved and pick that block: this removes the need to use shortcode-based plugins, thus making this easy and increasing the overall rendering performance of the website.
Mobile Friendly. The classic editor is not that great when you have to use it from a smartphone, especially when writing long posts: Gutenberg is definitely more mobile-friendly and easy to use from any mobile device.
Information box. The Gutenberg information box - available by clicking the i hotkey on the top bar of the block editor - is really nice: it automatically count words, headings, and a number of blocks; it also shows the outline for the whole document, which can be very useful for long posts.
Gutenberg CONs
Here are the most criticized disadvantages of Gutenberg, as pointed out by those who prefer not to use it:
Slowness. This was one of the biggest flaws of the new editor since it was firstly introduced in 2018: categories and taxonomy are displayed very slowly. This performance issue has been reduced with the editor's updated versions, but the issue is still here.
Accordions UI. The accordions are all paired, which can lead to confusion if there is a lot of them one after the other and contents in open accordions.
Block Layout. The development of blocks is rather complex, especially for newcomers, thus making the initial steps harder than they should be: most users will find them more difficult to  use than the "good old" meta boxes, which were quick to understand, configure and use.
Double scrollbar. The double scrollbar (main + sidebar), in addition to the page scrollbar, is definitely not practical and might be confusing for most users.
Double sidebar. The double-sided sidebar (2 tabs) may be confusing for some people.
Tiny Sidebar. The location of the excerpt in the Gutenberg sidebar is quite hard to read and see.
WPML issues. Management of the additional languages ​​has been placed at the bottom of the sidebar, which makes harder to see and use it: in the classic editor it was placed at the top of the sidebar, which was very convenient.
Verdict
Considering the fact that Gutenberg is the default WordPress editor, we strongly suggest to start learning to use it as soon as you can: we can definitely say that, after some growing pains due to the disadvantage listed above, it will bring a more flexible content creation experience for both newcomers and seasoned users. Being able to intuitively craft more complex layouts with extra elements like buttons, content embeds, and lots more is priceless, especially for non-developer users.
If you need a hand to learn how to use Gutemberg you will also find a lot of useful guides and resources available online, such as this handy WordPress Gutenberg Tutorial written by the guys of wpblogx.com.
Conclusions
Those that we have listed are the main advantages and disadvantages of the Gutenberg Editor that we have noticed: if you can think of others, feel free to add them in the comments section, we'll be pleased to add them to our list.