Losing data of any kind can put a significant dent in our daily activities according to the importance and relevance of the lost content in our daily lives. People usually look for easy ways using which they can recover the lost content without putting in too much of their time and efforts. This is where the Recoverit Data Recovery software comes into the picture: this neat tool helps in sd card recovery, audio recovery, image recovery and much more. With the help of this software, you do not have to worry about the loss of data anymore: it specializes in an archive, music, docs, photo and video recovery from a variety of devices such as SD card, recycle bin, camera, hard drive, USB drive, memory stick and much more.
Features of Recoverit Data Recovery
Recoverit Data Recovery software for Windows is, indeed, a great tool to have in your shed when you find yourself without your important files. This software provides the users with a multitude of features so that it is easy to retrieve the lost files in just a few steps. Following are some of the most impressive features of Recoverit Data Recovery software:
It helps with data recovery regardless of how you lost your data. This means that whether you lost the data due to accidental deletion, improper operation, formatting, computer virus, hard disk crash, unexpected power off or any other reason for that matter, Recoverit Data Recovery software will help you recover your data in no time.
It supports a number of different files and formats. You can retrieve documents, messages and emails, videos, archives, audios, photos and much more in as many formats as you can think of.
It supports a large number of devices such as hard drives, recycle bin, flash drives, memory cards, camcorder, digital cameras, removable drives, etc. It also supports a wide range of brands from Dell, Toshiba, Samsung to Apple, Sony, HP, etc.
It's extremely safe, and you can rely on it to keep all your data secure and away from people who might misuse it.
You'll be able to preview the files before recover them, so that you can check and verify the files that you wish to retrieve.
The files to recover can be filtered by date, size, and/or filename, so that you can quickly finish your work and save time in the process.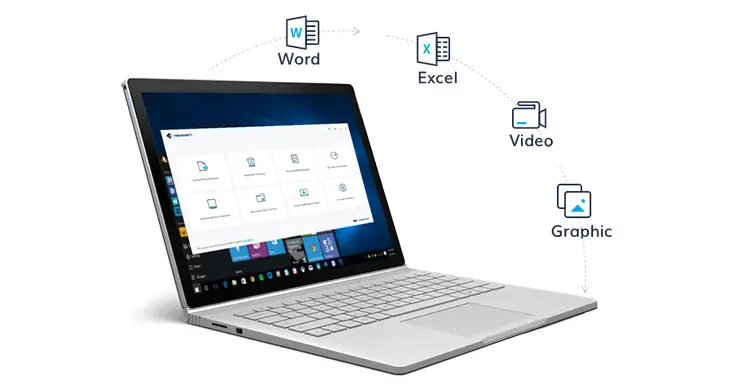 Using this software, you can also save all your previous scanning results and then import them in order to resume your recovery process without starting the scanning process all over again. This tool also does not try to write or "fix" the device that you want to recover the data from. Therefore, you can rest assured that the software will not damage your data.
Conclusion
Recoverit Data Recovery software is an excellent tool that works in three easy steps to recover all your lost files. It starts with offering you to choose a recovery mode and then scans your device. After that, it enables you to preview the recovered data and recover the files in a few easy steps. In addition to that, this software has amazing reviews from past users who have successfully been able to navigate around this tool in order to retrieve their lost or accidentally deleted files. All in all, Recoverit Data Recovery software is a one-of-a-kind tool that makes it easy to recover files.