Game of Khans is an online mobile game in which you have to take on the role of Khan. In general, the game's setting is familiar to many gamers, but if you are hearing about this game for the first time, check out our Game of Khans review.
We paid more attention to the game's visual aspect and, in particular, the characters concept art, which are a lot in the game. But let's go in order.
Overview of Game of Khans
What is Game of Khans? Here is an exciting online strategy game in which you have to manage your tribe of nomads. Unite the tribes of Central Asia and build an invincible Empire capable of conquering the whole world.
As in other online strategy games, here you will build your city and learn technologies and raid neutral and enemy cities. The mechanics of the game at first glance seem simple - you pump everything you have: an army, a city, technologies, get resources, etc. Moving on to Game of Khans characters as the developers put a lot of time and resources into creating unique, authentic, and cool personalities.
Introduction of Characters
Unlike regular grinders without a plot and 1-2 characters (which usually appear at the beginning for training), this game has collected familiar, unique, and interesting images. The game has a special character interaction system, just like in the usual RPGs. An example of this is the influence of a character on certain stats (increase in resources, combat power, influence, etc.) for pumping the kingdom and the ability to participate in all events. The style of the characters is varied, from Japanese samurai to Mongolian archers, but the developers managed to integrate them into the game's setting, which is not often done in games like Game of Khans.
Boorchu and Baylin
We want to designate Boorchu and Bailin as the first characters since the game mechanics are such that each adviser has his concubine. It sounds old-fashioned, but in the context of the game, it's just a couple of characters that together will bring more value to the kingdom. Boorchu specializes in animals and everything connected with them. Therefore it is not surprising that he is covered with armor with elements of animal skins and fangs. In addition, he has his pet next to him, which fits his style perfectly.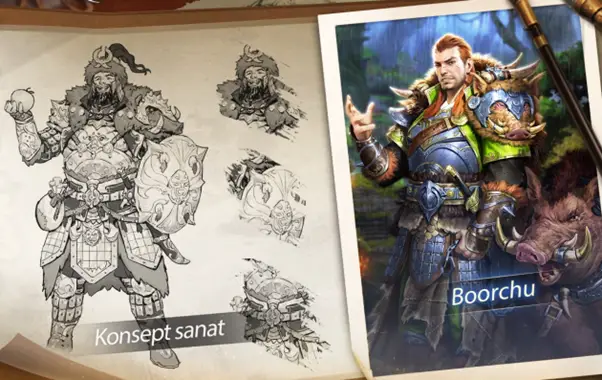 As for Baylin, among other Game of Khans female characters, she stands out with funny dialogues and a funny ferret that is always with her. Her clothes are radically different from Boorchu's armor and have bright, colorful colors and colorful elements. It's nice that the artists not only created the characters but could match them with each other.
Hasumi
The game is multicultural, so meeting Asian-style characters will not surprise anyone. Hasumi is the perfect character to prove such a proposition. Her style is noticeably different from the Japanese geishas or princesses we are used to. Changing the style to anime would have been one of the best waifu for a few years, but in Game of Khans, Hasumi plays musical instruments, sings, and dances. She rejoices at every court event, but it is difficult to say where her heart and loyalty are.
Chilaun
Chilaun, at first look, seems like a kind of Ken from Barbie, who conquers everyone with his beautiful face. But among other Game of Khans characters, Chilaun stands out for its originality and class - a kind of shaman or magician. It is not uncommon to find various combinations in RPGs, but in Game of Khans, many characters are added. However, their class and functionality are standard (warrior, archer, diplomat, etc.).
Thanks to the visualization and work of artists, actors such as Chilaun perfectly fit into the game and do not seem strange or superfluous.
More about RPG Games Characters
Characters in RPGs and their perception often depend on their design. Sometimes players want a particular character just because they like the look of it, and sometimes they like the philosophy of the character or the story. But all this is the work of artists, designers, and scriptwriters who create game characters - their shells and souls.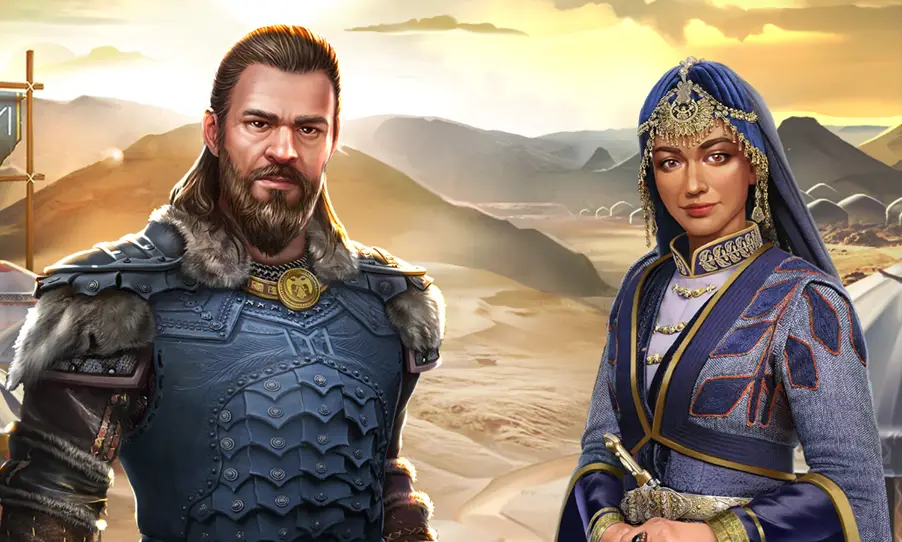 Based on this, Game of Khans characters, in addition to animations, voice acting (not in all languages, unfortunately), and appearance, are excellent examples of RPG composition and gameplay, where everyone can play a certain role in the game world.
Conclusion
Game of Khans is quite an interesting and fun project perfect for mobile gaming. The gameplay is standard and simple, which allows you to play measuredly and not rush anywhere. Also, gamers respond well to frequent events and optimization updates, which attracts newcomers to the game. We want to highlight the visual part of the game because Hasumi and Chilaun are not the only unique characters I would like to discuss. Then, of course, the article would stretch for a long time. But in general, the game is worth keeping at the top and does not intend to give up its position for a long time.