A majority of organizations know too well that it is essential to have a disaster recovery plan in place.
However, most companies have difficulties with the creation and execution of appropriate disaster recovery plans often leaving room for costly mistakes when an enterprise wants to use their plans. To help you avoid this in the future, here are six disaster recovery fails all business individuals should avoid.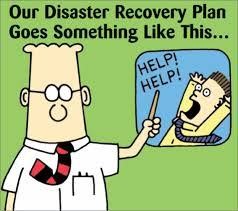 Ignoring the fact that the workforce is your first Firewall
While planning your data recovery policies, it is important to understand that the security of the data is not only about software, IT equipment, recovery technologies, and processes. A huge percentage of data loss happens because of human error.
This simply means that the workforce needs to be the first line of defense in regards to data loss and prevention. Businesses must train employees on their security responsibilities that could end up saving the firm from loads of trouble.
Failing to account for business requirements
The requirements of your business are the heart of a successful disaster recovery plan. This is particularly important today because many firms have interconnected and sophisticated infrastructure with loads of moving parts making it challenging to protect all the components.
To make things easier, it is important that representatives from all the departments to be present when coming up with plans for disaster recovery. This way, everyone is aware of what needs to be done should a disaster strike. Involvement of different departments also ensures that you end up prioritizing the proper recovery steps to avoid disappointments in the future.
Not constantly reviewing the DR Plan(s)
It is common for a business to be comfortable with the recovery plans they have in place especially if they went into great lengths to come up with the right plans. This is usually a very huge mistake because things may change somewhere and you are left in the dark.
As the business continues to grow, you may also want to make some adjustments to the plans for smooth continuity. It is recommended that businesses do not become too comfortable with the disaster recovery plans they have but to keep reviewing these often to make sure that they are still what the business needs.
Using the wrong gear
Many people have a tendency to rely on the same or nearby infrastructure for redundancy and primary operations. This is a grave mistake that everyone should avoid at all costs.
While it is useful to have local backup you also need to work with a data center that is far away (cloud-based or located on a remote facility). This way, you will quickly turn to plan B when everything close by comes tumbling down. At this point, it is usually best to secure offsite cloud backup as well as disaster recovery infrastructure to be on the safe side.
Backing up everything
Another common mistake that enterprises make is wanting to include all their data in one backup process. Note that data is typically a mix of archival-quality bits. This means that a certain percentage of your data requires frequent replication or backup to capture daily changes while the rest does not demand frequent backup.
Make it a habit to separate production data from the archive data. This is a move that can help you save a lot of data protection cash and precious hours that you spend for recovery. This will also open up more space on your production storage environment.
Inadequately testing the Data Recovery Plan(s)
Before settling on any recovery plan, it is paramount that you test and re-test it as many times as possible to ensure it is what you are looking for. Failure to do this in many cases usually means that the plans will not work when you desperately need them to. Remember that you need to test this as often as software, staff, and hardware change.
Conclusion
Data recovery planning is a time consuming and complex task that needs to be done properly if you want to avoid disaster recovery fails that can jeopardize business operations. You also need to stay on top of any changes that may come along so that the plans are always in tune with business needs. Last but not least, you should consider to invest in some remote backup solutions - such as Ottomatik's mysql cloud backup plan, in case you're using MySQL - to ensure that your critical data is stored safely.