L'installazione predefinita di CentOS – come tutti gli OS Linux – consente di accedere al sistema mediante la schermata di accesso standard, ovvero tramite shell. Se si desidera accedere a una GUI, è necessario effettuare quanto segue:
Assicurarsi che una interfaccia grafica (GNOME, KDE o altre) sia presente sul proprio sistema.
Effettuare il login.
Digitare il comando

startx
Nel caso in cui non sia stato installato alcun ambiente grafico, è possibile risolvere installando GNOME con il seguente comando shell:
yum

groupinstall

"GNOME Desktop"

"Graphical Administration Tools"
Ovviamente, il comando startx  lancerà la GUI solo per quella sessione specifica: in altre parole, all'avvio successivo, occorrerà nuovamente accedere alla shell e digitare il comando per accedere alla GUI.
Configurare il sistema in modo che la GUI venga avviata automaticamente su ogni accesso è possibile, ma le operazioni da effettuare variano a seconda della versione di CentOS installata: vediamole insieme.
CentOS 6.x e versioni precedenti
Aprire il file 

/

etc

/

inittab

Modificare il parametro 

runlevel

  da 1 (o 3) impostandolo a 5.
Le varie entry presenti nel file /etc/inittab determinano la modalità di avvio del sistema,  indicando quali processi avviare automaticamente a seguito delle varie tipologie di accesso ad esso. Le entry presenti all'interno del file osservano il seguente formato:
id

:

runlevels

:

action

:

process
Questo è l'elenco dei possibili valori di runlevel attualmente supportati:
2

-

Multiuser

,

without

NFS

(

The

same

as

3

,

if

you

don

'

t

have

networking

)
E' possibile modificare il file etc/inittab con un qualsiasi text-editor installato sul sistema, come gedit, nano o vi:
oppure
CentOS 7.x e versioni successive
Con l'introduzione di systemd, il file file /etc/inittab non è più utilizzato per definire il valore di runlevel predefinito per le varie modalità di accesso al sistema: il nuovo file /etc/inittab non è che un readme che contiene alcune utili informazioni che descrivono il nuovo sistema:
# inittab is no longer used when using systemd.

# ADDING CONFIGURATION HERE WILL HAVE NO EFFECT ON YOUR SYSTEM.

# Ctrl-Alt-Delete is handled by /usr/lib/systemd/system/ctrl-alt-del.target

# systemd uses 'targets' instead of runlevels. By default, there are two main targets:

# multi-user.target: analogous to runlevel 3

# graphical.target: analogous to runlevel 5

# To view current default target, run:

# To set a default target, run:

# systemctl set-default TARGET.target
Il testo di cui sopra riassume in buona sostanza quello che dobbiamo fare per abilitare il lancio automatico della GUI ad ogni avvio. In estrema sintesi, è sufficiente aprire una shell terminal e digitare il seguente comando:
systemctl

set

-

default

graphical

.target
Questa istruzione imposterà il runlevel a 5, provocando l'esecuzione automatica del Graphics Environment installato sul sistema a seguito di ogni sequenza di boot, reboot o startup.
Il modo migliore per verificare che tutto funzioni è effettuare il riavvio della macchina: se tutto sarà andato per il meglio, dovremo visualizzare qualcosa del genere (la schermata è relativa a GNOME):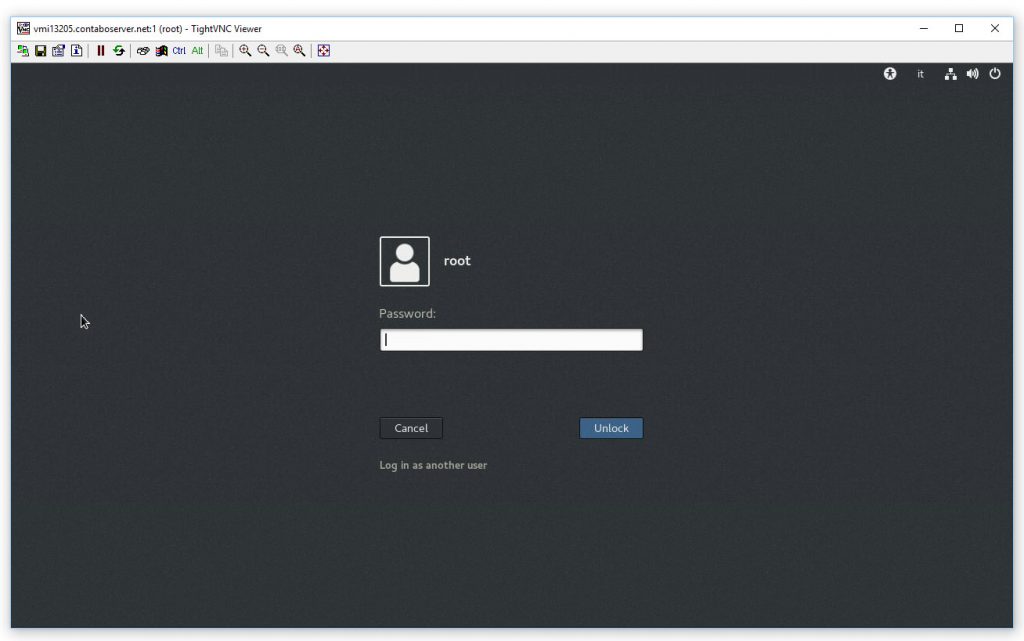 Per il momento è tutto: felice GUI!

Print Friendly & PDF Download